Monday, 14 June 2004
London -> Sofia (Софиа)
Monday is spent flying to Bulgaria on Alitalia via Milan. As the hour of departure approaches people begin to accumulate at the gate - Bulgarians! Men in suits, returning home from business in Europe, and women who look, and dress, like high-fashion models. I'm taking it all in, trying to recognize random words in this new language. The men are visibly relaxing as they return home and are probably enjoying being back in the company of their countrymen where they can use their native language. We arrive in Софиа around midnight, clear customs, retrieve the bags and bicycle and are met by two young men from the hotel. They know only limited English. They load the bike on top of the truck and then drive us into town with fast techno-dance music on the stereo while we creen our necks to see what Bulgaria is like. One thing's for sure, Sofia doesn't go to sleep after midnight. They bring us to the hotel in the heart of downtown - narrow crowded back streets almost unlit, but very much alive with nightlife. They put us up in an "apartment" overlooking Vitosha Boulevard - kind of a main drag where, even at two in the morning, there's lots of young people walking up and down the streets - the street-side ice cream vendor is still open for business, but won't accept U.S. currency and I don't feel up to trying to change money at this hour. I open the 2nd story window and lie on the wide sill watching the nightlife - 2am Monday morning is still very much the weekend in Sofia.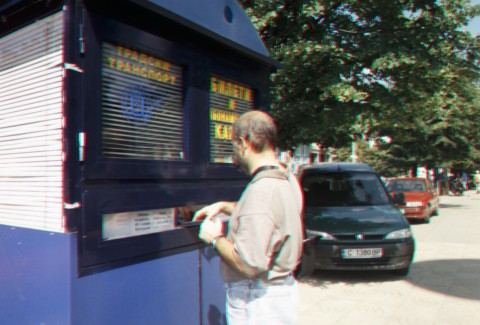 Buying trolley tickets ("billets") at the kiosk.

0.50 leva (about $ 0.30 US) gets you anywhere you want to go.

The streets are congested here, but the city is quite green and the climate very pleasant. Lots of pedestrians, lots taxis and narrow tandem electric trolleys like you see in pictures of Prague. The trolleys run continuously - no need for a schedule, there's always one there when you need it. In Europe, motorists park wherever they can find space and Sofia is no exception. Tow trucks are of the "spider" variety - they have a flat bed on the back and a crane they swing over a car and lift by all four wheels to place on the bed and haul off.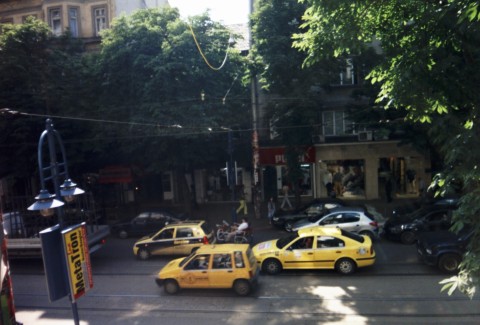 Sofia is very green. People walk a lot, take the trolley and the taxis.

Across the street there's a guy on recumbent three-wheeler

We're across from the Amerikan Center - in the morning they've barricaded that street - did they hear suspicious cyclists were in town? The "Internet Café" is great - you slip down an alley then up a spiral staircase to a series of rooms where high-energy dance music plays softly and they assign you a PC. Street vendors sell Ice Cream rich with Liquor toppings and Pizza with corn and peas on top, Cell phones must be trendy because there's lots of shops selling cell service and accessories. Everything is carefully weighed here - next to the price, restaurant menus list the weight of each dish. Somehow, most of the cars in Sofia have dirty side panels - it looks like you're in Colorado where melting slush dirties the cars and freezing temps discourage washing. I only notice this in Sofia, not the other towns. There's thick layers of posters plastered to the street poles - the upcoming Peter Gabriel concert seems to be the big thing. Judas Priest & Queensryche are also coming, but don't seem to be generating as much excitement.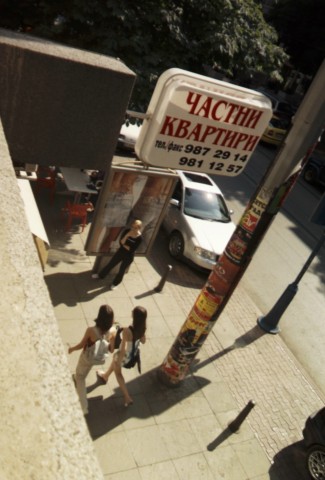 The view from our apartment over Vitosha Boulevard.

We spend Tuesday looking around - we've read favorable reviews of a vegetarian restaurant called "Sweet Dreams" and we think we're pretty close to finding it. Someone's calling "Adrian" - how can that be? Must be another Adrian - no! It's Brown and Maria, friends from Raleigh, who are also visiting Bulgaria in June (Maria is from Sofia). They happen to have spotted us from a street car! We tell them about the restaurant and Maria leads us down several blocks, into an alley, up a flight of stairs, and there's our restaurant - "Dream House" - we'd never have found it on our own!
---



Copyright © 2004 Adrian Hands.
Permission is granted to copy, distribute and/or modify this document under the terms of the GNU Free Documentation License, Version 1.2 or any later version published by the Free Software Foundation; with no Invariant Sections, no Front-Cover Texts, and no Back-Cover Texts.
A copy of the license is included in the section entitled "GNU Free Documentation License".