Back from Sofia-Varna-Sofia (София-Варна-София) 2004!
I was worried that the photos might not turn out - I was pretty rough on the camera, but they've been processed and I'm so pleased with the proofs I've thrown together a small sample below. It'll be a few days, maybe a week, before the hi-res photos are available. I expect to finish up my write-up tonight and integrate some photos. More later...
---
Update: Here begins the full story with lots of text and lots of photos!
(Use the pointing hands to navigate fore and aft - they're at the bottom of the TEXT, not necessarily at the bottom of the photos.)
---
I found most of these useful in preparing for my visit:
---
| | |
| --- | --- |
| | Gathered in Sofia the day before the ride. Deniz-Sabri Uksel, Lazar Vladislavov, Me, Docho Dochev, Chavdar Chernikov, Dimitar Balanski (crouching), ?, Stanimir Gyurov |
| Dawn Breaking on Day One (Thursday 17 June 2004). Heading east from Sofia | |
| | The Viaduct, I think? This photo is NOT retouched! |
| I knew there'd be horse and donkey drawn wagons, but I saw a lot more than I expected. There was also a lot more motor-cars than I expected. Note the red pom-pom on the horse's forehead. | |
| | These Birch stands where surreal. |
| Heading out on Day Four | |
| | Docho races along through the valley between the Stara Planina and the Malyovitsa mountain ranges |
| A roadside waterfall - lots of fresh water in Bulgaria and it never sits still - cascading from the mountains and being oxygenated. Roadside springs allow cyclists to refill their bottles with fresh cool and clear water - I've never drunken so much water on a ride! | |
| | |
| --- | --- |
| | Shaking hands with Mitko at the finish arch in Sofia. Having finished ahead of me, Gyurov and Docho look on. |
---
My shortcut (in blue):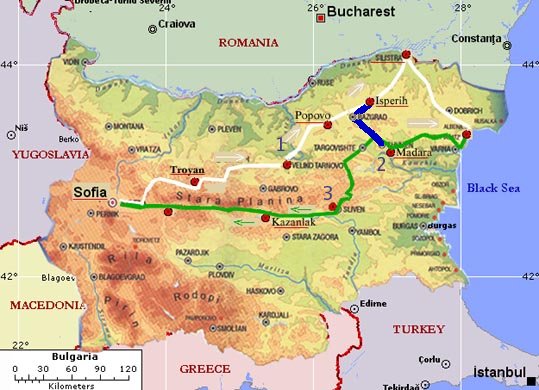 ---

Copyright © 2004 Adrian Hands.
Permission is granted to copy, distribute and/or modify this document under the terms of the GNU Free Documentation License, Version 1.2 or any later version published by the Free Software Foundation; with no Invariant Sections, no Front-Cover Texts, and no Back-Cover Texts.
A copy of the license is included in the section entitled "GNU Free Documentation License".